Smooth, fresh, young-looking skin is a goal shared by millions. FDA-approved dermal fillers are the perfect solution to take years off of your facial appearance to achieve the beautiful look you crave. Spearheaded by Dr. Charles Sarosy M.D + F.A.C.S Pure Beauty Medical Spa is an Allergan Top 250 Provider that can deliver injectables in the most effective way.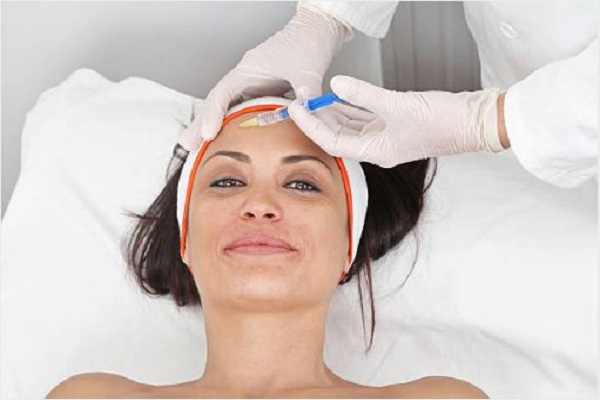 *Individual Results May Vary
About Dermal Fillers
Dermal fillers are a type of cosmetic treatment that inject hyaluronic acid (HA) molecules, which is a naturally-occurring ingredient in the body, into the skin to reduce the presence of lines, wrinkles, and blemishes. While they do not deliver lifelong results, the semi-permanent results do provide noticeable rewards for 18-24 months. Patients often enjoy the following rewards;
Younger looking skin that's plump, has more volume, and no lines.

Increased benefits for the smile and eyes.

Increased self-confidence due to the results and positive reactions from others.
Dermal fillers have become an increasingly popular route to younger-looking and feature as the top anti-aging procedure available, especially when completed by a team of experienced professionals like Pure Beauty Medical Spa.
Dermal Filler Types and Treatment Areas
Dermal fillers are available in various types and can be used to treat a wide range of areas, including some that you may not have considered. The dermal fillers injections can be used on the face and body to gain smooth, plump skin. Popular locations include;
Cheeks,

Chin,

Hands,

Lips and vermillion border,

Marionette lines,

Mouth corners,

Naso-labial folds,

Nose

Jawline

Smoker's lines,

Tear troughs.
In addition to a range of treatment areas, a selection of different dermal fillers are available. Pure Beauty Medical Spa can administer each of the following.
Juvederm® Ultra Plus XC
The Juvederm Ultra Plus XC is an injection designed to correct severe facial wrinkles, deep nasolabial folds, marionette lines, and depressed cheeks. They contain an anesthetic called lidocaine for added comfort while the treatment provides plump, full, soft, supple skin.
Juvederm® Ultra XC
While not as thick as the Ultra Plus, Juvederm Ultra XC still contains lidocaine and is used to correct minor facial wrinkles, marionette lines, and deep nasolabial folds. Many users consider it to be like a liquid facelift, giving you all the same benefits in a far less invasive manner.
Juvederm Volbella® XC
The Juvederm Volbella® XC injections are used primarily for lip augmentation. They are capable of restoring a youthful look by correcting lip lines while also producing fuller lips with increased volume and a softer touch. Again, they contain lidocaine for added comfort.
Juvederm Vollure® XC
The Juvederm Vollure® XC hyaluronic acid injections are designed to treat moderate to severe nasolabial folds, as well as lines and creases around the mouth and nose. The lidocaine reduces any discomfort, while treatments can be completed in just 45 minutes.
Juvederm Voluma® XC
Primarily used on the cheeks, Juvederm Voluma® XC delivers greater volume to the treatment area, removing lines and delivering the youthful facial shape associated with beauty. The injections use lidocaine for reduced discomfort while the downtime is minimal.
Restylane Lyft® & Sculptra®
The Restylane Lyft® & Sculptra® dermal fillers can be used to iron out wrinkles and moderate to severe lines on the cheeks. However, they are also a popular choice of treatment when targeting aging skin on the hands.
Dermal Fillers Consultations Available
Request A Consultation
What are the Benefits of Dermal Fillers?
Dermal fillers are popular for a wide range of reasons, not least because they offer a less invasive solution that delivers results lasting for up to two years. It's also safe to use them alongside other cosmetic and anti-aging treatments while repeating the dermal filler process after they eventually wear off is equally fine.
When combined with the fact that there are no downtime or side effects, other than short-term redness or swelling, it's no wonder that the industry-leading Juvederm and Restylane Lyft injections have been used by so many patients with help from Dr. Charles Sarosy and the Pure Beauty Medical Spa team.
Am I a Candidate for Dermal Fillers?
Due to the fact that dermal fillers use the naturally-occurring HA ingredient, the likelihood of a negative reaction to the treatment is minimal. When combined with the fast procedures, lack of recovery time, and semi-permanent results, dermal fillers are ideal for anyone wanting to fight back against the signs of aging by achieving younger-looking skin.
If you are unhappy with the wrinkles and blemishes are currently seen in your reflection, dermal fillers could be the best solution available.
"I had a great experience at this spa. The people there are super nice and I was pleased with the services I received. The are very knowledgeable and caring." *

" *
KH,

Happy Patient
VIEW MORE PATIENT REVIEWS
Take the Next Step
Interested in learning about dermal fillers? Schedule your consultation with Pure Beauty Skin Care & Medical Spa today by calling one of our two locations in Rancho Santa Margarita (949) 326-9009, or Newport Beach (949) 236-6001
*individual results may vary