There may be a lot of anti-aging injectables out there, but when it comes to instant name recognition, few of them come close to touching the universally popular Botox.
But there are a few contenders that rival Botox, both in affordability and effectiveness. One of them is Dysport, a new anti-aging injection that works to fade frown lines just as well as Botox.
Given that both injections target the same aging concerns, what's the difference between Botox and Dysport?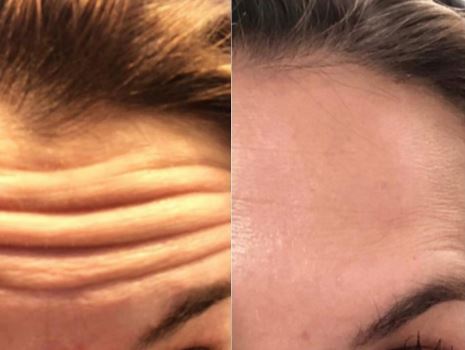 View More Patient Results
*Individual Results May Vary
Comparing Botox and Dysport: What Are the Differences?
1. What They Treat.
First introduced to the world in the late 90s, Botox is an FDA-approved injection that works to smooth away forehead wrinkles and frown lines. Botox is also approved for the treatment of crow's feet, which are wrinkles that extend from the corners of your eyes.
Dysport is FDA-approved for the treatment of frown lines, which are those stubborn vertical lines that appear between the eyebrows.
2. How Long Treatments Take.
Both Dysport and Botox take just a few minutes to inject into the targeted areas. Botox sessions may take slightly longer if you're opting to use it on a few areas, like your frown lines and crow's feet.
Botox & Dysport Consultations Available
Request A Consultation
3.How Long Results Last.
Dysport users tend to see results faster (usually within two to three days after injection). Botox users take a little longer to see their results, as they usually appear about one to two weeks after treatment.
Clinical studies have shown that Botox results tend to last longer (four to five months) than Dysport (three to four months).
4. How Much They Cost.
Dysport is considered more affordable than Botox, as each unit is priced lower than a unit of Botox. However, you may need more Dysport injections to see the same results as with Botox, so those cost savings might disappear depending on the severity of the wrinkles you're looking to treat.
"I went to this location to get a fixer up of a recent botox injection I had received elsewhere that had created two small lines at the top of my forehead right before my hairline. I'm only 24 and doing this for preventative care and because I am a model. I don't remember the female's name but she was such a sweet physician. She totally saw the problem and completely fixed it. A few days after and once the botox started to show, I couldn't have been more satisfied. Awesome place.*" *
ML,

Happy Patient
VIEW MORE PATIENT REVIEWS
Take the Next Step
Interested in learning about Botox and Dysport, including which anti-aging injection may be right for you?
Schedule your consultation with Pure Beauty Skin Care & Medical Spa today by calling one of our two locations in Rancho Santa Margarita (949) 326-9009, or Newport Beach (949) 236-6001.