For some, the first signs of aging are deepening lines around the mouth and nose. Often called "parentheses" or "marionette lines," many of the patients at Pure Beauty Medical Spa have tried serums and creams to reduce these lines to no avail. That's because the lines originate deep under the skin, where most creams and serums can't go. Sculptra dives deeper to not only fill in these lines but as it works, it rebuilds collagen to prevent the lines from deepening in the future.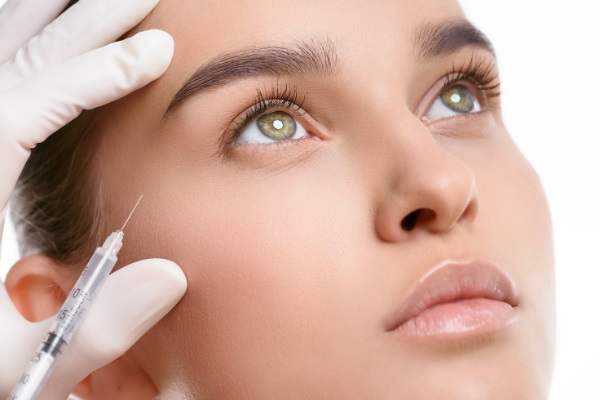 *Individual Results May Vary
How Does Sculptra Work?
By the time we're in our mid-40s, we've lost up to 25% of our collagen network deep in our tissues. Collagen is the skin's most important protein, providing the framework for our facial structures and the firmness of our skin. Time weakens collagen fibers so they stretch and break, making the surface of our skin more prone to wrinkles and lines. Our bodies are slower to produce new collagen, compounding the wrinkles and lines. Our mouth is the most expressive area of the face, so it stands to reason lines around it are deeper than those anywhere else.
Sculptra is an FDA-approved filler made of poly-L-lactic acid (PLLA) that adds volume to the tissues underlying nasolabial folds and marionette lines. Because it's not like other fillers, Sculptra acts as a scaffolding for the building of collagen. The gel itself does the heavy lifting, in the beginning, to fill in deep folds in the face. As the PLLA microparticles are absorbed, collagen production is ramped up to replace them, so your facial structure remains firm for far longer than with traditional fillers. It's a longer-term improvement for deep lines and wrinkles, preserving your youthful volume and beauty.
Am I a Good Candidate?
If moderate creases and nasolabial folds are a concern of yours, and you're in general good health with realistic expectations of the outcome of your treatment, you may be an ideal candidate for Sculptra. Start with a consultation with the experienced Pure Beauty Medical Spa team.
Sculptra Consultations Available
Request A Consultation
What is the Procedure Like?
Sculptra is a dermal filler, so it's administered through injections into the appropriate areas of your face. Our team of injection specialists can have you in and out of the Pure Beauty offices in under an hour. Most appointments only take 15-30 minutes. Most patients require around 3 Sculptra treatments to achieve their aesthetic goals.
What is Recovery Like?
You may experience some injection site tenderness and a bit of swelling, but this usually subsides after a few days. Other than enduring the pinch of the needle for the injections, Sculptra treatments are a near-painless way to keep yourself looking as young as you feel.
What Results Can I Expect?
Because Sculptra is a filler that adds immediate volume to your treatment area, you'll see an immediate improvement in the depth of your nasolabial folds, marionette lines, and chin wrinkles. In a clinical study lasting 25 months, 80% of patients were still happy with their results when the study concluded.
Sculptra is a fantastic option when considering cosmetic enhancement procedures because of its longer-term results and less need for maintenance injections. That's why Dr. Charles J. Sarosy and the Pure Beauty team stand by their expert Sculptra treatments. Fight the deepening signs of aging from the inside out with Sculptra. Your smile deserves to shine.
Pure Beauty has the best service, so friendly. The nurses do awesome job…I have so much trust in the staff and products…been going for years now….
LS,

Happy Patient
VIEW MORE PATIENT REVIEWS
Take the Next Step
Interested in learning about Sculptra? Schedule your consultation with Pure Beauty Skin Care & Medical Spa today by calling one of our two locations in Rancho Santa Margarita (949) 326-9009, or Newport Beach (949) 236-6001.