Have you heard about PRP treatments – especially when used with microneedling – but not sure how it can benefit your skin?
Let's take a closer look at PRP treatments, including what PRP can be used for!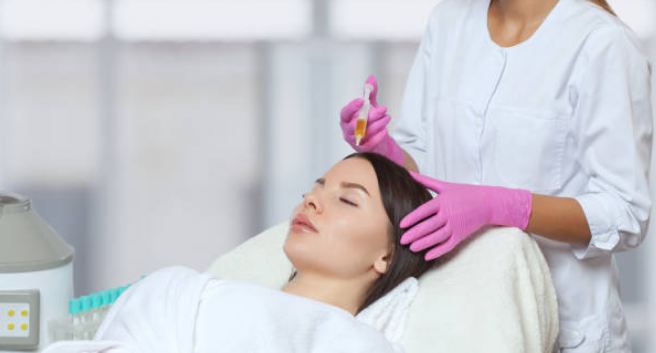 *Individual Results May Vary
Rejuvenate Facial Skin
Whether you want to tackle hyperpigmentation or treat sun-damaged skin, PRP can be used to help rejuvenate your complexion and erase years from your appearance.
That's because PRP helps encourage multiple rejuvenating processes, including:
Increasing collagen and elastin production
Increasing cellular turnover
And more!
With regular PRP treatments – delivered through micro-needling devices – patients can experience a resurgence in glowing, rejuvenated skin…
The kind of skin that will make you look years younger!
Improve the Look of Wrinkles and Lines
If you've noticed more aging symptoms – like wrinkles and fine lines, – PRP solutions may be what you're looking for.
When added to a special growth activating serum, PRP can help firm up and strengthen skin that may be losing elasticity as a result of the aging process. As a result, skin becomes thicker and firmer, helping to ease the appearance of common aging issues like:
Wrinkles

Fine lines

Sagging skin

Facial folds

And more
PRP Consultations Available
Request A Consultation
Fade the Appearance of Acne Scars
Do you know what can be worse than acne breakouts?
The scarring they leave behind.
If your acne scars make you look like you still suffer from bad skin, PRP can help you get the complexion you've always wanted. PRP helps encourage collagen and elastin production to speed up cellular turnover.
That means old skin sheds faster – and new, scar-free skin takes its place.
Microneedling with PRP works best on pigmented acne scarring, although it can help fade the look of "ice-pick" scars as well.
Encourage Hair Regrowth
Finally, PRP is an excellent solution for candidates with thinning hair, especially around the scalp line.
That's because platelet-rich plasma gives sluggish hair follicles the kick-start they need to grow back thicker and lusher than ever before.
With regular PRP for hair loss treatments, clients can expect to see more hair regrowth in thinning areas. Best of all, the hair is 100% real and your own, meaning you can wash it, tug it, and swim with it.
"Amazing experience, the service quality and results of treatment are all world class and exceptional."
SL,

Happy Patient
VIEW MORE PATIENT REVIEWS
Take the Next Step
Interested in learning more about what PRP can be used for?
Schedule your consultation with Pure Beauty Skin Care & Medical Spa today by calling one of our two locations in Rancho Santa Margarita (949) 326-9009, or Newport Beach (949) 236-6001.