Anything with the word "needle" in it sounds scary, particularly when we're talking about cosmetic aesthetic treatments of the face. As intimidating as microneedling sounds, the benefits far outweigh the risks, discomfort, and side effects.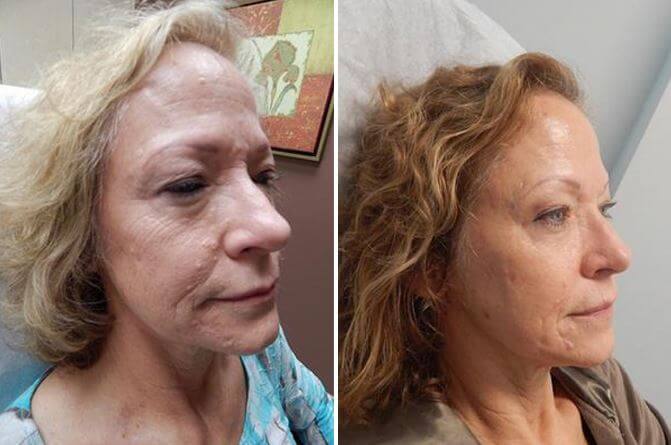 View More Patient Results
*Individual Results May Vary
How Does Microneedling Work?
Your skin is an extremely resilient part of your body, renewing itself, repairing the damage, and protecting your tissues and organs. At Pure Beauty Medical Spa, we combine microneedling with Platelet-Rich Plasma (PRP) using the Vivace RF Microneedling device to enhance results and improve your skin quality better than any microneedling treatment alone. Vivace RF works through 36 insulated gold-tipped needles precisely engineered to create microchannels within the dermis at controlled angles and depths. These micro-injuries signal your skin to renew and repair itself, create new skin cells, and boost collagen production, the skin's most prolific protein, and support structure. These channels remain open for 4-6 hours, during which time, your own PRP is applied to boost skin cell renewal and collagen growth even more. Simultaneous radiofrequency delivers heat to the deepest dermal layer to tighten skin. Astonishingly smooth, even skin is the result, and the needles' insulation minimizes burning and maximizes comfort. So those needles that sound so intimidating? They're not painful, and they bring about some really incredible benefits.
Microneedling is great for treating:
Minor acne scarring
Fine lines and wrinkles
Uneven skin tone and texture
Loose skin
Enlarged pores
Am I a Good Candidate?
Because Vivace RF microneedling doesn't rely on your skin tone or pigment for effective treatment, most people are good candidates for the procedure. Talk to your Pure Beauty Medical Spa team members about any concerns you have.
Microneedling Consultations Available
Request A Consultation
How Safe is Microneedling?
The answer is it's extremely safe, as well as effective. It's minimally invasive, convenient, and results are relatively fast. Patients may experience mild side effects such as bleeding, bruising, swelling, and peeling. Your skin may be reddened and irritated following your treatment, with sunburn-like tenderness, but for most people, this is the extent of the side effects. These resolve within a few days of your procedure as your skin begins to renew itself. Patients are even cleared to return to work or school following the procedure and use makeup to disguise any visible signs of the treatment. Sunscreen is imperative in the days following your microneedling session.
Results and Expectations
Within two weeks following your appointment at Pure Beauty, you'll begin to see smoother skin, diminished acne scarring, and shrinking pores. If you hoped to treat fine lines and wrinkles, these will become shallow and less prominent, and your complexion will appear more supple and youthful. Patients often achieve more dramatic outcomes after 3-4 treatments, and many choose to have maintenance treatments annually or bi-annually.
Microneedling should be performed in a board-certified doctor's office only. Under the supervision of Dr. Charles J. Sarosy your safety and comfort are our greatest priority at Pure Beauty Medical Spa. There are at-home treatments that mimic the idea of a professional microneedling treatment, but the derma rollers in those kits aren't backed by Vivace RF microneedling's precise engineering standards. In fact, many of those derma rollers barely scratch the skin, so there's no collagen stimulation or cell renewal. For more dramatic, longer-term results enhanced with PRP, call Pure Beauty today for a consultation. Love the skin you're in again.
Loved my experience here. Very very kind d and super professional. Definitely a five star.

This is my second time now visiting pure beauty medical spa and not only did I return but I brought a friend as well. I love the environment, but the staff puts this place and experience over the top. I will be returning again and again and will keep you updated on my next beautiful experience here.
GC,

Happy Patient
VIEW MORE PATIENT REVIEWS
Take the Next Step
Interested in learning about microneedling treatments? Schedule your consultation with Pure Beauty Skin Care & Medical Spa today by calling one of our two locations in Rancho Santa Margarita (949) 326-9009, or Newport Beach (949) 236-6001.