Cosmelan® is a skin depigmentation treatment designed to diminish stubborn dark spots and patches caused by hormonal changes related to pregnancy or menopause, sun exposure, and laser or chemical peels. Cosmelan® reduces the action of the cells that produce skin pigment to create a more even skin tone.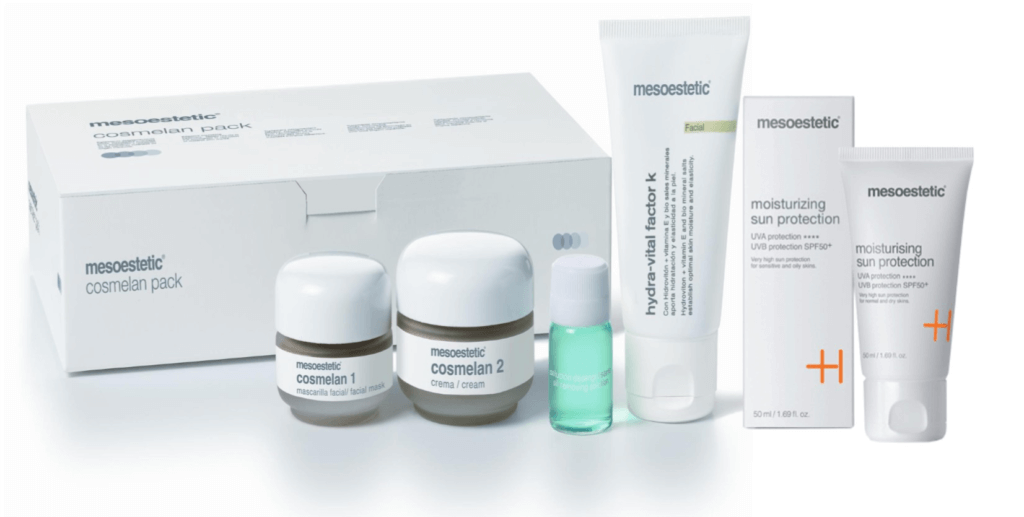 How Does Cosmelan® Skin Care Work?
Melanin is the pigment that gives skin its color. If there is too much melanin in one area, a dark spot will develop. Cosmelan® works by inhibiting an enzyme called tyrosinase that is necessary for melanin formation.
Cosmelan® can be applied to the face, legs, hands, abdomen, and breast or nipple area. It can be used to treat:
• Melasma
• Acne scars
• Age-related dark skin spots
• Cholasma
• Facial hyperpigmentation
What are the Advantages of Cosmelan® Skin Care?
Cosmelan® can be safely used on all skin complexions. It is effective on brown spots that have been resistant to other types of treatment. Cosmelan® does not increase sun sensitivity; however, patients are still urged to wear sunscreen when outdoors to prevent further sun damage. Although the treatment does create a slight peel immediately after application, there is minimal redness or flaking. Cosmelan® does not contain hydroquinone and is considered safe for long-term use.
Cosmelan® Skin Care Consultations Available
Request A Consultation
What to Expect with Cosmelan® Skin Care
Cosmelan® is a two-step depigmentation regimen. During the first step, the doctor applies the Cosmelan® cream mask in an in-office procedure. You will remove the mask about 4 to 8 hours later using a gentle cleanser. The day after your treatment, you may notice some slight redness and peeling. The cream that the doctor will provide can help reduce any redness or itching that may occur. You will be given directions on when to begin the second maintenance step of the regimen. This involves using a daily cream to preserve the results of the lightening and to keep the skin clear and smooth. The cream is applied two to three times daily for the first couple of weeks following the treatment.
Daily use is recommended from then on to help maintain the results of the treatment. It is important not to use other skin lightening products or creams that can cause additional peeling, redness, or dryness while using Cosmelan®. Most patients notice results within a few weeks.
Love this place! Ladies this place can change your life. Go see Naomi! She's the best! The whole staff is wonderful and they have great specials and they are so easy to work with and schedule!
DT,

Happy Patient
VIEW MORE PATIENT REVIEWS
Take the Next Step
Interested in learning more about Cosmelan® Skin Care? Schedule your consultation with Pure Beauty Skin Care & Medical Spa today by calling one of our two locations in Rancho Santa Margarita (949) 326-9009, or Newport Beach (949) 236-6001.