Spider veins occur when the valves in our blood vessels become insufficient and allow blood to pool or backflow. Spider veins are small, superficial veins that are red, blue, or purple and appear web-like or branch out like a tree. At Pure Beauty Medical Spa, you don't have to suffer the appearance of spider veins anymore.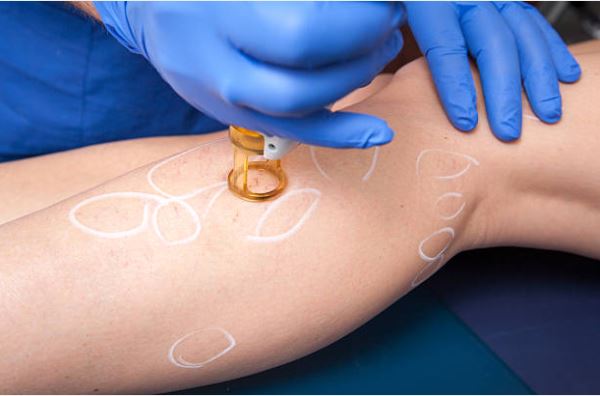 Say goodbye to unbecoming veins. The biggest benefit of laser vein removal is the treatment and disappearance of unsightly spider veins. By collapsing the veins, you're also removing the dysfunctional valves, so you're treating the cause, not just the symptom. No more reddened face, or insecurity with wearing shorts as we near warmer temperatures. Your skin is clear of redness and patches of unpleasant vein clusters.
Laser vein removal is non-invasive. Other treatments, like sclerotherapy, endovenous laser ablation, or vein stripping, involve injections or incisions. Excel laser treatments don't require either and are entirely non-surgical. Your recovery is faster, less painful, and you're back on your feet and free to resume normal activity right away.
There is no downtime associated with laser vein removal. You're encouraged to walk frequently following your treatment, and while compression hose are recommended for several days, there is no real interruption to your normal routines. You may need to avoid strenuous exercise for a couple weeks, but other restrictions are not necessary.
How Does Laser Vein Removal Work?
Laser vein removal is an effective, non-invasive treatment for spider veins. The Pure Beauty Medical Spa team uses the Cutera Excel laser system to remove these veins without painful vein stripping or other, more invasive treatments. The laser energy is absorbed by your dysfunctional blood vessels, which results in a venous wall collapse. The diseased veins close and are absorbed by the body, and the blood supply is redirected to healthier vessels deeper in the tissues.
Laser vein removal is FDA-approved and can be performed in many locations on the body. Spider veins typically appear on the ankles, knees, legs, face, and nose. They can be caused by genetics, injury, or age, but they can be successfully treated for healthier vascular tissue and a smooth, clear appearance to the skin.
Laser Vein Removal Consultations Available
Request A Consultation
Am I a Good Candidate?
Every patient's vascular health is unique to them, but the good news is Excel laser systems can be used for most skin tones. A comprehensive consultation at Pure Beauty Medical Spa can help determine if laser vein removal is the right treatment for you.
What Results Can I Expect?
Treatments are usually completed within 15 minutes. You may require 6-8 treatments every 4 weeks to achieve optimal vascular health, but you should notice visible diminishing of your spider veins 3-4 weeks from your first session with continued improvement over 6-9 months.
While spider veins are often considered a purely cosmetic issue, venous insufficiency may be a sign of more serious health concerns at play. Taking good care of your veins is one way to stay on top of your vascular health. At Pure Beauty, we make our treatments as affordable as possible with financing options, so you don't have to choose between health and finances. Dr. Charles J. Sarosy and the Pure Beauty Medical Spa team provide unparalleled patient care so you can be your best self, inside and out.
"Wonderful experience! Very friendly and knowledgeable staff, I'm definitely returning for all future services! ⭐️" *
JR,

Happy Patient
VIEW MORE PATIENT REVIEWS
Take the Next Step
Interested in learning about laser vein removal? Schedule your consultation with Pure Beauty Skin Care & Medical Spa today by calling one of our two locations in Rancho Santa Margarita (949) 326-9009, or Newport Beach (949) 236-6001.