In case you haven't heard, butts are back in a big way. Gluteal targeted exercises have surged in popularity as people seek to improve their backside's curvature and volume, as well as tighten skin. But for some people, exercise doesn't provide enough improvement, and surgery seems extreme. That's okay. Pure Beauty Medical Spa has the answer you've been looking for with Sculptra.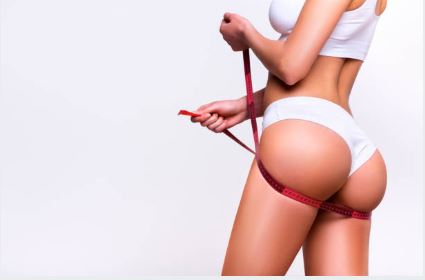 Sculptra is a Non-Surgical Butt Lift Option
If you'd like to improve your silhouette with a more voluptuous butt, or if you've noticed skin dimpling or upper thigh bulging thanks to gravity, skin laxity, or age, and surgery is a daunting prospect, Sculptra can help. It's the only FDA-approved, non-surgical filler for adding posterior volume for subtle lifting and shaping of your derriere. Injected into the buttocks, Sculptra creates an inflammatory response in your body, which immediately rushes to heal the injection site with the creation of collagen and scar tissue. In the talented and capable hands of the Pure Beauty staff, we can create a shapelier, curvier posterior for you.
Sculptra's active ingredient is poly-L-lactic acid, which eliminates creases from sagging and age, as well as adds subtle lift and volume to your cheeks. While not as obvious or dramatic as a butt implant or fat transfer, Sculptra is non-surgical, with far less downtime and recovery than surgery, and comes with much less risk. It is ideal for patients without enough fat to transfer, or who aren't looking for obvious results. In fact, it is the only non-surgical option for achieving a curvy, delectable backside others will envy.
Am I a Good Candidate for a Non-Surgical Butt Lift?
Has your butt shrunk over time? Has gravity caught up with you, causing your butt to flatten, dimple, and sag? Or have you simply never had the rounded curve you'd like? If you're in relatively good health and have realistic expectations, you're likely a great candidate for Sculptra injections.
Sculptra Consultations Available
Request A Consultation
Results, Side Effects, and Recovery with Sculptra Dermal Fillers
Sculptra injections aren't a substitute for moderate to high volume butt enhancements, but for skin smoothing, gentle lift, and subtle volume, Sculptra is ideal. Results are almost immediately visible as the filler takes up space within the tissues of your buttocks, and continued treatments will give you gradual lift and improvement in the following few months as collagen and scar tissue form. Your skin will smooth out, and your posterior profile will plump in a satisfying way. Results may last for up to 3 years.
The procedure isn't considered painful, though ice or a mild topical anesthetic may be administered if desired. Each patient experiences about 45 minutes of treatment, with a recommended multi-treatment regimen, spaced 3-6 weeks apart. Common side effects include tenderness and bruising, and we recommend you minimize sitting or lying on your back for the first 24-48 hours post-procedure to avoid changing the placement of the filler.
Ready to enhance your backside without surgery? Schedule your consultation with board-certified cosmetic surgeon Dr. Charles J. Sarosy and the Pure Beauty Medical Spa staff. We're certain our knowledge, experience, and compassion will convince you there's no better place to perfect your butt's shape and voluptuousness. We've mastered the perfect blend of art and science, so we will not only take good care of you, we'll provide results you can show off.
Pure Beauty has the best service, so friendly. The nurses do awesome job…I have so much trust in the staff and products…been going for years now….
LS,

Happy Patient
VIEW MORE PATIENT REVIEWS
Take The Next Step
Interested in learning about Sculptra butt enhancements? Schedule your consultation with Pure Beauty Skin Care & Medical Spa today by calling one of our two locations in Rancho Santa Margarita (949) 326-9009, or Newport Beach (949) 236-6001.