It's widely known that Botox® is derived from botulinim toxin, which, in the wrong form and quantity, can be incredibly dangerous. Despite that, more than 7 million Botox® treatments were given in 2018 alone. Why? Because patients know that Botox® is entirely safe, FDA-approved since 2002, and is regarded as the most effective wrinkle treatment on the market. Pure Beauty Medical Spa couldn't agree more.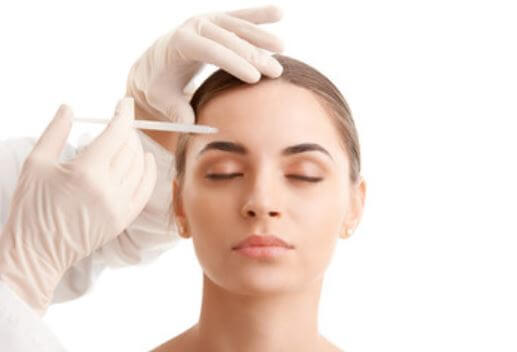 How Does Botox® Work?
Despite its toxicity, Botox® is an effective and beneficial therapeutic medication. In the FDA-approved concentrations, Botox® works by blocking the neurotransmitter acetylcholine at the junction where nerve endings meet muscle cells. This paralyzes the muscles in our facial expressions responsible for the creation of forehead wrinkles, brow furrows, and crow's feet. This relaxes the skin in those areas, and wrinkles fade quickly. The repeated use of Botox® trains those muscles not to react to the nerve impulses, so the more Botox® treatments you have, the longer-lasting the treatment becomes.
Botox® Facts
Botox® treatments exceeded 7 million in 2018, accounting for 42% of all cosmetic enhancement procedures in the United States.
Botox® is derived from Clostridium botulinum, which is found in nature (in soil, lakes, and forests), and in this form, is non-toxic and mostly inactive.
Botox® was approved for the prevention and reversal of lines and wrinkles in 2002 and has been safe and effective for that indication ever since.
There are other medical conditions, such as migraines and hyperhidrosis (excessive sweating) that Botox® has been approved for, so it has been in use since the late 1970s.
Am I a Good Candidate for Botox®?
Most people are candidates for Botox® treatments, though patients may need to discontinue the use of blood thinners in the days leading up to your appointment. Tell your Pure Beauty team member of any muscle relaxants, allergy medications, or sleep aids you may be taking. Men and women alike benefit from Botox® treatments to restore confidence, prevent new wrinkles from forming, and relax current wrinkles out of existence.
Botox® Consultations Available
Request A Consultation
What Can I Expect From Botox®?
Botox® is injected directly into neuromuscular tissue by the expertly trained medical professional team members at Pure Beauty Medical Spa, who have an artistic eye as well as the techniques required for natural, successful results. There are no surprised or plastic looks from our Botox® treatments. Effects are generally visible within 5 days of your Botox® treatment and may last from 3-5 months. The more treatments you have, the more beneficial and long-lasting the effects of Botox® are on your wrinkles. The injections come with few side effects, but they include injection site tenderness, mild swelling, and reddened skin. This resolves within the first 24 hours. Numbness and headache are also mild effects that may take a few days to subside.
Do not be swayed by "discount boutiques" offering Botox® at suspiciously low prices. Safe Botox® treatments are done only under a doctor's care, and board-certified cosmetic surgeon Dr. Charles J. Sarosy is at the top of his game. Botox® injections, while safe, do take precise placement within the muscles in order to achieve effective, natural, and beautiful outcomes. At Pure Beauty Medical Spa, our team has extensive training, comprehensive knowledge of facial anatomy, and the artistic skill and experience necessary to elevate your Botox® treatments to the next level.
My first visit to your spa was Wed. 8, with Nida for botox. She was fabulous! I had. no brusing, no purple, swelling, green or yellow, as I usually do. My face started responding within days. Nida assured me thru out the service I would be fine. I was so concerned as I almost always have horrid effects that last for two weeks, This was amazing. I will trust Nida for my botox again. Thank you so much for her patience with me.

The office staff is so nice, considerate and take time to listen to your concerns. They really try their very best to accommodate your needs.

I trust services at Newport Pure Beauty Med Spa.
CH,

Happy Patient
VIEW MORE PATIENT REVIEWS
Take the Next Step
Interested in learning about Botox® treatments? Schedule your consultation with Pure Beauty Skin Care & Medical Spa today by calling one of our two locations in Rancho Santa Margarita (949) 326-9009, or Newport Beach (949) 236-6001.