More than 7 million Botox® procedures were performed in 2018, making it the most popular cosmetic enhancement procedure in the country. While the idea of using a medication derived from botulinum toxin may seem unsafe, in the hands of a skilled medical professional, it is one of the safest procedures performed today.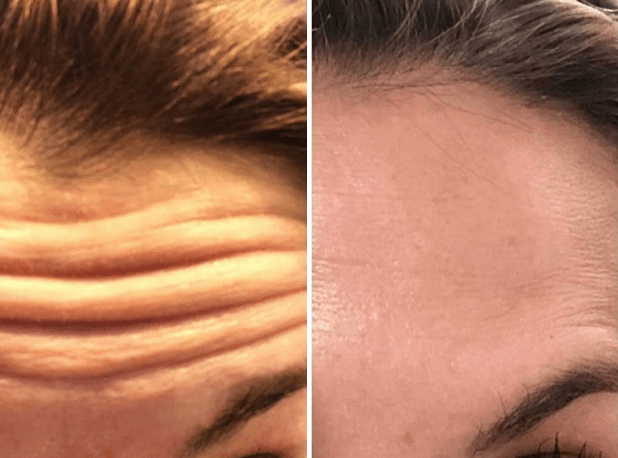 View More Patient Results
*Individual Results May Vary
How Does Botox® Work?
It may seem like forehead lines, furrows between the brows, and crow's feet suddenly appear, they're due to the repetitive motion of the muscles of the upper face, specifically the corrugator and procerus muscles in the forehead, and the orbicularis oculi muscles around the eyes. Botox® combats these repeated motions by blocking the nerves responsible for those muscles' movement, allowing your skin the chance to relax. The wrinkles almost magically fall away, and with continued Botox® treatments, your muscles become accustomed to the medication, prolonging its results for a longer, more pleasing, wrinkle-free appearance.
Am I a Good Candidate?
Most people make good recipients for Botox® injections, although, for some, a facelift can be more effective. Call today to see if you're an ideal candidate.
Treatment, Downtime, and Results
The good news is, Botox® injections take only about 10 minutes, and are only as painful as a standard injection. Your Pure Beauty provider may apply topical numbing cream for your comfort. Following your procedure, you may feel sensitivity in the injection site, swelling, and redness. These resolve within a few hours, and you're able to immediately resume your normal routine following your session.
Within 5-7 days, the muscles of your treatment area have been sufficiently relaxed for the wrinkles and furrows to have reduced. Your smooth, wrinkle-free appearance will continue for up to 5 months and practiced Botox® recipients may experience even longer results. Continued Botox® appointments are recommended to stave off the return of the wrinkles and lines the medication has suspended.
Botox® Consultations Available
Request A Consultation
Is Botox® Safe?
Although Botox® uses a type of botulism, there have been few cases of adverse effects associated with cosmetic use since its FDA approval in 1989, and most of those were the result of underlying medical conditions. However, the popularity of Botox® has created a black market for the drug, so it's imperative to always have a board-certified physician and medically trained professionals, such as Dr. Charles J. Sarosy and the Pure Beauty Medical Spa team, perform your treatment. Botox® should only be administered under a doctor's care because placement of the injections is critical, not only for natural results specific to your unique facial structures, but for your safety. Adverse effects are more likely when injections are administered by someone untrained and inexperienced. You can also trust the source of your Botox® medication is genuine, not a diluted or otherwise altered, cheaper and less safe imitation.
The team at Pure Beauty Medical Spa is proud to be in the upper echelon of the maker of Botox®, Allergan's Top 250 Partner Privileges program. We know Botox® and have the medical expertise and artistry required to treat the unique and different facial structures of men and women alike. Your safety, comfort, and satisfaction are our number one priority, and we've successfully treated thousands of patients in the Rancho Santa Margarita and Newport Beach areas since opening our doors. Our know-how, compassion, and spa-like atmosphere serves to make your Botox® treatments one of the best decisions you've ever made.
My first visit to your spa was Wed. 8, with Nida for botox. She was fabulous! I had. no brusing, no purple, swelling, green or yellow, as I usually do. My face started responding within days. Nida assured me thru out the service I would be fine. I was so concerned as I almost always have horrid effects that last for two weeks, This was amazing. I will trust Nida for my botox again. Thank you so much for her patience with me.

The office staff is so nice, considerate and take time to listen to your concerns. They really try their very best to accommodate your needs. I trust services at Newport Pure Beauty Med Spa.
CH,

Happy Patient
VIEW MORE PATIENT REVIEWS
Take the Next Step
Interested in learning about Botox® treatments? Schedule your consultation with Pure Beauty Skin Care & Medical Spa today by calling one of our two locations in Rancho Santa Margarita (949) 326-9009, or Newport Beach (949) 236-6001.