For many patients, a surgical facelift is a last resort in the fight against aging, and with so many different procedures in the cosmetic enhancement industry, there's good reason to explore all the options before making a decision. One of the most basic improvements a facelift provides is skin tightening. So is there a non-surgical option that does the same thing for less money? Pure Beauty Medical Spa has all the answers you seek for non-surgical facelift procedures and which may be best to treat your loose or lax skin.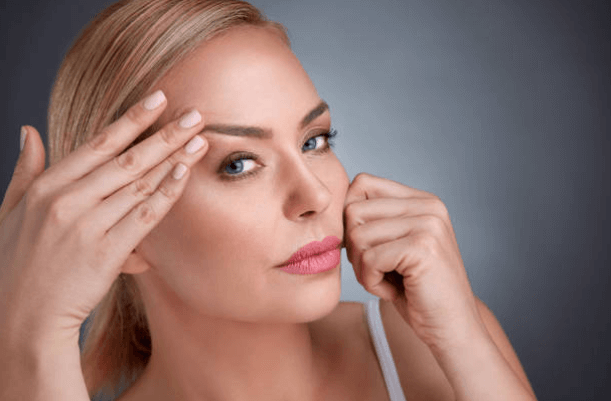 How Does Skin Tightening Work?
The Titan™ laser from Cutera® targets loosened skin at the source by sending infrared light into the dermal layer of the skin where collagen is produced. Collagen is the protein which feeds the skin's connective tissues, keeping them supple and youthful. Over time, collagen production slows, and the collagen we have breaks down, becoming less effective. Infrared light sent deep into the skin stimulates fibroblasts, which are responsible for collagen production, vital in the treatment of poor skin support. Alongside smoothing wrinkles, the Titan™ laser's main purpose is to increase the production of collagen to tighten up loose skin, resulting in firmer, smoother, younger looking skin without the need of incisions, anesthetic, injections, or long recovery time.
The procedure itself is well tolerated, with patients reporting a heating sensation within their skin. Some patients may require mild painkillers taken before the start of the treatment, but many more are fine without it. Because it takes time for new collagen to form, results are gradual over a period of 3-6 months, making Titan™ skin tightening a much more subtle improvement over a facelift. Only your doctor will know.
Titan™ Laser Consultations Available
Request A Consultation
How Much Does Skin Tightening with the Titan™ Laser Cost?
Many considerations go into determining the cost of the skin tightening procedure, as is true with any cosmetic enhancement treatment you choose. Your geographical location, the type of procedure, the expertise and training of your medical provider, the facilities where the treatment is performed, and any medications you'll require during recovery.
With a Titan™ skin tightening treatment, you can save thousands by foregoing the costs of an operating room, anesthesiologist, and medications. For some non-surgical treatments, however, there's a chance repeated treatments are necessary. This can increase the cost, which still may be less than a surgical procedure. For the Titan™ skin tightening procedure, average patients undergo 1-3 treatments to achieve their final outcome.
According to RealSelf.com, the average cost in Southern California for Titan™ skin tightening treatments is $1,500, with a range reaching up to $3,000. This is based on data from actual patients in the local area who've reported their results in reviews.
The Pure Beauty Medical Spa team understands there are degrees of treatment a patient is willing to consider in the fight against aging. Maybe a surgical facelift can't be avoided forever, but with modern advancements in cosmetic rejuvenation, there's no telling how long non-invasive, non-surgical treatments will last. No one escapes the ticking clock, but we can fight the ravages of time off with technology. When creams and serums stop working, the Titan™ skin tightening treatment may just be the next step you're looking for to yourself years of smoother, tighter, more youthful skin.
Pure Beauty has the best service, so friendly. The nurses do awesome job…I have so much trust in the staff and products…been going for years now….
LS,

Happy Patient
VIEW MORE PATIENT REVIEWS
Take the Next Step
Interested in learning more about how much a Non-Surgical Facelift Cost? Schedule your consultation with Pure Beauty Skin Care & Medical Spa today by calling one of our two locations in Rancho Santa Margarita (949) 326-9009, or Newport Beach (949) 236-6001.