Developing spider veins is sometimes an unfortunate consequence of aging, as our blood vessels can become insufficient. Valves in the vessels can allow for pooling or backflow, and spider veins may be the result, tiny clusters of red, blue, or purple veins on the legs or face. Pure Beauty Medical Spa can help with laser vein removal.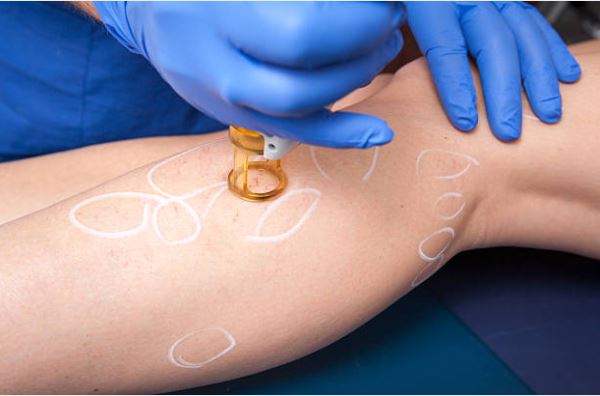 *Individual Results May Vary
How Does Laser Vein Removal Work?
Laser vein removal is an innovative FDA-approved treatment that is non-invasive for the treatment of spider veins, which can be caused by injury, age, or genetics. The Cutera Excel laser is the system the Pure Beauty Medical Spa team uses to effectively remove spider veins and correct venous dysfunction. The walls of the damaged blood vessels absorb the laser energy and collapse, sealing off the unhealthy flow of blood and redirecting it to deeper, healthier blood vessels. Your body absorbs the collapsed spider veins and filters them out naturally, leaving your skin smooth and spider vein free. The Excel laser is powerful enough to remove problem veins while still remaining gentle enough to be used on the delicate tissues of the face, or the sensitive skin behind the knees and on the ankles.
Am I a Good Candidate?
Excel laser energy is safe for most skin types, so nearly anyone with spider veins may have the treatment. Because vascular conditions are very personal to individual patients, a consultation with a Pure Beauty Medical Spa laser expert is a great first step.
Laser Vein Removal Consultations Available
Request A Consultation
Treatment, Downtime, and Results
The treatments are very quick, around 15 minutes start to finish. Unlike sclerotherapy or endovenous laser ablation, Excel laser vein removal requires no injections or incisions, so it's completely non-surgical, and as such, downtime is minimal. You may experience redness or tenderness for 1-2 days, but these resolve on their own. You're encouraged to walk right away for healthy blood flow, and you may only be required to wear compression stockings for leg treatments for a week. While most patients need an average of 6-8 treatments spaced 4 weeks apart to reach optimal goals, visible improvement begins 3-4 weeks following the initial session.
How Much Does Laser Vein Removal Cost?
Unfortunately, most insurance companies consider spider veins to be a cosmetic concern, so laser vein removal treatments are not always covered. According to the American Society of Plastic Surgeons, the cost of laser vein removal averages nationally around $429 per session. At Pure Beauty Medical Spa, we don't want you choosing between your pocketbook and venous health or an appearance that brings you confidence. We make all our treatments as affordable as possible with financing options and competitive pricing. Under the guidance of Dr. Charles J. Sarosy, your laser vein removal treatment is the absolute best we can provide in the area.
At Pure Beauty Medical Spa, we know how important our appearance can be to our mental health and well-being. While we always strive to bring our patients the best pricing for all our cosmetic rejuvenation treatments, we don't compromise on safety or patient care. Vascular health is a vital part of an overall healthy appearance, and when insufficient veins result in spider veins on the face or legs, our patients find comfort and compassion with our vascular treatments and our expertise. Don't let spider veins hold you back. Call today!
"Such a great experience at Pure Beauty! They hire great staff and I have received three laser treatments and have seen wonderful results already! They also keep their two locations very clean, which doesn't go unnoticed. I will keep coming back to them for years! Thank you for your service Pure Beauty team!" *
HW,

Happy Patient
VIEW MORE PATIENT REVIEWS
Take the Next Step
Interested in learning about laser vein removal? Schedule your consultation with Pure Beauty Skin Care & Medical Spa today by calling one of our two locations in Rancho Santa Margarita (949) 326-9009, or Newport Beach (949) 236-6001.