Having a nicely contoured face shape is one of the defining characteristics of beauty, and one aspect of that is a defined jawline. Professionals are often considered more competent and accomplished with a strong profile. The double chin is one of the first things we notice about ourselves in the mirror. Luckily, Pure Beauty Medical Spa has Kybella®, the only FDA-approved non-surgical treatment to reduce the double chin.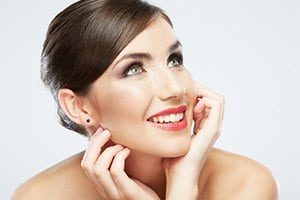 How Does Kybella ® Work?
Kybella® targets submental fullness, or the double chin, an area difficult to reshape using diet and exercise. Previously, only liposuction or a facelift procedure would fix something many of us are born with or have developed as we age. Kybella® is made of deoxycholic acid, which the body naturally produces to break down dietary fat. Kybella® targets submental fullness fat cells and damages their membranes, causing cell death. The body filters the dead cells out through the metabolic process, leaving your chin and jawline sculpted and defined.
We have roughly the same number of fat cells throughout our lifetime, and they fluctuate in size only. So when Kybella® targets those cells, they're gone for good. The remaining cells fill in the gaps left by the dead cells, so you experience no lumps or bumps. A healthy lifestyle can keep the remaining cells from growing and bringing back your double chin. Your new face shape is yours to enjoy for the long-term.
Am I a Good Candidate?
If you're tired of living with excess skin and fat beneath your chin and long for a pleasing profile, you may be an ideal candidate for Kybella® injections. Because we're already used to deoxycholic acid in our systems, Kybella® is well tolerated. Call Pure Beauty today to schedule your consultation.
Kybella Consultations Available
Request A Consultation
Treatment, Recovery, and Results
Most people require between 2-4 Kybella® treatments to reach their facial aesthetic goals. Each treatment is performed by a Pure Beauty injection specialist in our comfortable offices. Your series of injections will be carefully planned to contour your jawline for the best possible outcome. No incisions, bandages, and best of all, no downtime or painful recovery. You may experience some injection site tenderness for a week or two, but you're immediately able to resume your active lifestyle following your procedure.
The body takes time to filter out the dead fat cells, so visible results begin at the 4-6 week mark following your first treatment. The following 3-6 months of your treatment protocol see increased improvement until your jawline is sculpted and your double chin is greatly reduced or completely gone.
How Much Does Kybella Cost?
Your Kybella® cost is determined quite a bit by how much of the medication you require in each treatment session, which is unique to each patient. Geographical area and physician expertise can also play a role in Kybella® pricing. At Pure Beauty, we work hard to make our treatments as affordable as possible for our patients with financing options, so you don't have to choose between your ideal image and your pocketbook. We also price Kybella® as competitively as possible, and Dr. Charles J. Sarosy has cultivated a loyal clientele that allows us to worry less about the cost of treatment and more about our patients' needs and goals. According to the American Society of Plastic Surgeons, the national average price range for Kybella® treatments is $1,200-$1,800 per session.
Pure Beauty has the best service, so friendly. The nurses do awesome job…I have so much trust in the staff and products…been going for years now….
LS,

Happy Patient
VIEW MORE PATIENT REVIEWS
Take the Next Step
Interested in learning about Kybella®? Schedule your consultation with Pure Beauty Skin Care & Medical Spa today by calling one of our two locations in Rancho Santa Margarita (949) 326-9009, or Newport Beach (949) 236-6001.