Dermal fillers are rapidly becoming one of the most popular cosmetic enhancement procedures in the country. Time and aging often results in the loss of volume in our cheeks and lips, as well as increasing lines and wrinkles. Dermal fillers are a minimally invasive, non-surgical treatment option that costs thousands less than surgery with virtually no downtime. Pure Beauty Medical Spa is your best source for dermal fillers.
How Dermal Fillers Work
Our Juvederm® collection of fillers are precisely engineered by Allergan, makers of BOTOX®, to smoothly and naturally fill in volume lost in the cheeks and lips, and give your face the plumpness of youth. Lips can thin, and the baby fat we carry into our 20s shifts and disappears, changing our face from heart-shaped to oval or square that signifies growing older. Also, hyaluronic acid (HA) naturally occurs in our skin during our younger years, but lessens with time.
Juvederm® fillers are made of varying sized HA molecules and infused with lidocaine to make each injection as painless as possible. Allergan controls the different Juvederm® products by chaining together different sizes of HA molecules—a patented cross-linking technology called Vycross®—to create a line of fillers with varying thicknesses and consistencies. This gives the talented injectors at Pure Beauty Medical Spa ultimate control over each Juvederm® product's precise placement in the treatment area.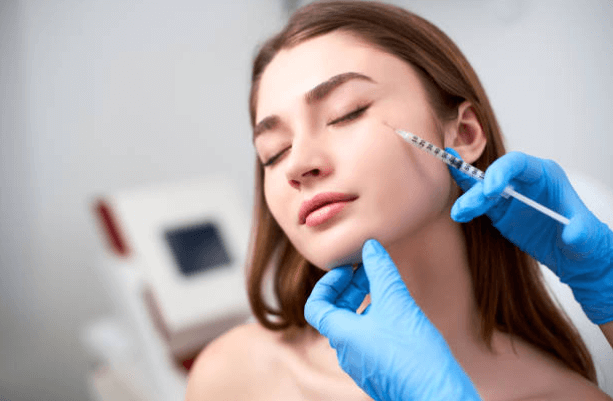 Whether you're seeking fuller cheeks, plumper lips, or filling in deepening nasolabial folds around your mouth, there's a Juvederm® that's right for you. Pure Beauty Medical Spa is recognized by Allergan as a Top 250 provider through their Partner Privileges program. Only 1% of all cosmetic enhancement clinics in the country achieve this, proving we are the best at what we do.
The Cost of Dermal Fillers
One of the biggest considerations for dermal filler treatments is cost. This depends on the number of treatments required to reach the patient's aesthetic goals, the number of areas being treated, geographical location of the clinic, and expertise of the medical practitioner. In 2018, the American Society of Plastic Surgeons listed the average price per unit of Juvederm® fillers as $682. RealSelf.com sets the range in Southern California between $650-$850 based on local reviews. The total cost for treatment also fluctuates by patient depending on the number of units required to achieve their desired outcome.
From Consultation to Results
Each patient receives a comprehensive treatment plan up front, so there are no surprises, only results you'll love. During the development of this plan, your expressions, facial structures, and desires will be assessed to ensure the proper amount of filler is injected in the most beneficial way. Costs will be discussed in advance, and we have flexible financing options to fit your budget.
Dermal Fillers Consultations Available
Request A Consultation
Dermal Filler Treatment at Pure Beauty Medical Spa
The good news is the results of your treatment are immediately noticeable. This is by design, as the Pure Beauty practitioner handling your procedure relies on the visible consistency and thickness, and the injectable smoothness of Juvederm® gels to complete your dramatic (or subtle) transformation.
The Pure Beauty Medical Spa team is proud to be the best, and it shows through our Allergan Top 250 Provider status. For you, this means your care, from start to finish, is our number one priority, and we excel at what we do.
Anita is wonderful giving the botox and voluma injections. She's very friendly, professional and has a good eye on placing the filler. She was very patient and let me be involved with where it was needed, taking time to discuss. I had a great experience. The only thing I wasn't sure about was after spending a lot for two syringes of voluma and botox, waiting a couple of weeks to decide if I needed one more syringe, to get the same price I had to pay up front for the 3rd syringe to get the same sale price before I could make an appointment before even deciding if I really needed it. I paid 3 weeks in advance(waiting for the first injections to settle down) before they would book the appointment. Only to find the sale price was still good. It just felt like after spending almost $3000, and really a continuation of what I was having done, they could have been more flexible in working with me on the pay up front sales pitch. That was the office policy.
QQ,

Happy Patient
VIEW MORE PATIENT REVIEWS
Take the Next Step
Interested in learning about dermal fillers? Schedule your consultation with Pure Beauty Skin Care & Medical Spa today by calling one of our two locations in Rancho Santa Margarita (949) 326-9009, or Newport Beach (949) 236-6001.