In recent years, a full, voluptuous butt has become a desirable trait in overall physical aesthetic. Exercises targeting the gluteus muscles are more prevalent than ever in the chase for a great butt. Unfortunately, some people are destined for a smaller backside. Or are they? At Pure Beauty Medical Spa, we have your answer to getting the perfect peach of a butt without downtime and surgery.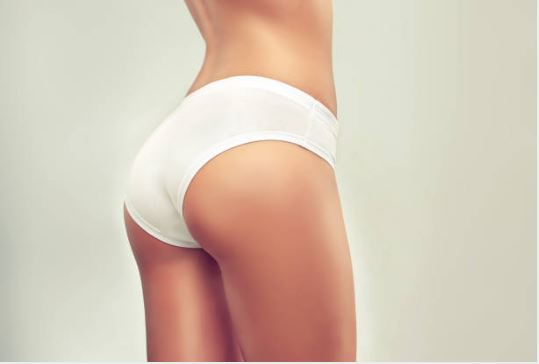 What is Sculptra, and How Does It Work?
We use Sculptra, an injectable filler containing poly-L-lactic acid, which stimulates your body's natural production of collagen to increase the volume in your behind and eliminate creases that form over time and with sagging. Other fillers only add volume through their gel consistency, and after a while, that volume can break down and need to be touched up. Sculptra actually creates an inflammatory response in your body, which rushes to produce collagen and scar tissue in the injection area. Your Pure Beauty practitioner uses their experience and artistry to take advantage of the body's response, creating a plumper, shapelier posterior for you, and the results are proving to be much longer lasting than traditional fillers.
Lactic acid naturally occurs in your body, so Sculptra injections are safe. They have been approved by the FDA since the 1970s to treat other areas of volume loss for patients. The only other alternatives for volumizing the butt are surgical, either through fat transfer which requires liposuction to harvest the fat, or butt implants. Not everyone has the fat available on their body for fat transfer or wants liposuction, and implants come with their own risks and results. Sculptra is the first non-surgical option for increasing the plumpness of your butt for a better silhouette.
Butt Augmentation Consultations Available
Request A Consultation
Results and Downtime
Sculptra has the definite advantage over surgery with very little downtime. Injection site bruising and swelling are common and only last a few days. It is recommended you minimize sitting and lying on your back for the first 24-48 hours to avoid pressure causing Sculptra fillers to spread in a way your doctor hasn't intended. Because this will make returning to work difficult for some, a day or two off is ideal.
Initial results begin within 2-3 months, and growth of collagen may continue for up to a year, and last for 3 years. Some studies even show a 5 year longevity to Sculptra.
How Much Does Sculptra Cost?
Costs vary by geographical location, the expertise of your Sculptra practitioner, and the number of vials necessary to reach your aesthetic goals. A single treatment ranges between $3,000 and $8,000 according to RealSelf.com. On average, patients require 5 vials per side, so 10 total, per treatment. This is determined by how much lift you're seeking, and the original size of your butt cheeks. Because some people require 2 or even 3 treatments, we have financing options available at Pure Beauty Medical Spa, so you can worry more about your results than the pinch to your pocketbook.
Board certified cosmetic surgeon Dr. Charles J. Sarosy, with more than 6,000 cosmetic enhancement procedures under his belt, is one of the most experienced in the area. His highly qualified and expertly trained staff keeps informed of the latest in technology and cosmetic enhancement techniques. At Pure Beauty Medical Spa, patient satisfaction is our top priority.
Pure Beauty has the best service, so friendly. The nurses do awesome job...I have so much trust in the staff and products...been going for years now....
LS,

Happy Patient
VIEW MORE PATIENT REVIEWS
Take The Next Step
Interested in learning about Butt Augmentation? Schedule your consultation with Pure Beauty Skin Care & Medical Spa today by calling one of our two locations in Rancho Santa Margarita (949) 326-9009, or Newport Beach (949) 236-6001.