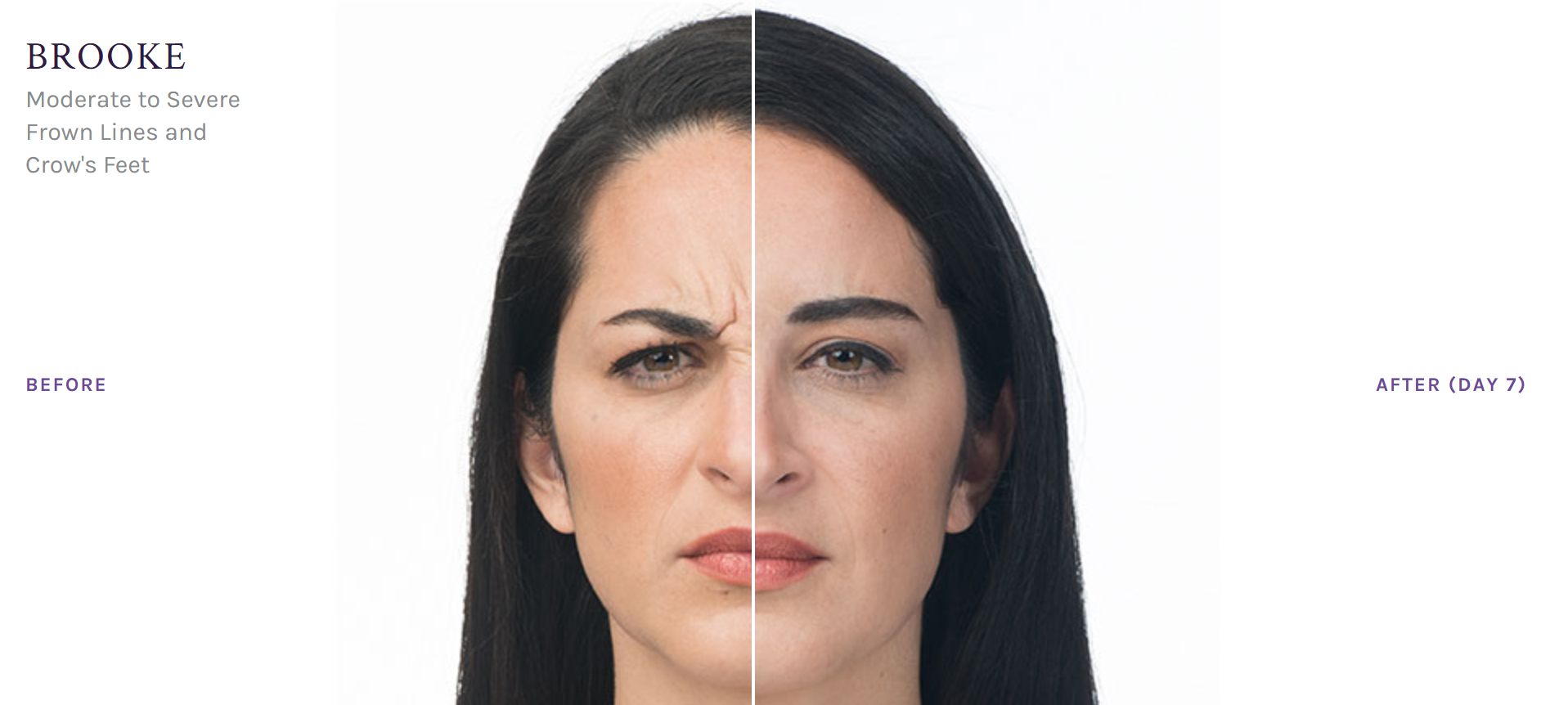 Wisdom isn't the only thing that comes with age. The inevitable march of time takes its toll on our skin, as does sun damage, and the repetitive facial expressions we all display. A lifetime of squinting, smiling, frowning, and brow furrowing leave their lasting mark in the form of wrinkles, crow's feet, and bunny lines around the mouth. Slow the advancement of age and minimize the appearance of lines, folds and wrinkles with BOTOX®, the number one nonsurgical treatment in the country.
How Does BOTOX® Work?
Quick and virtually painless with few side effects, BOTOX® is injected into the corrugator and procerus muscles responsible for horizontal forehead lines, furrowed brows, and other unwanted wrinkles and folds. BOTOX® blocks the nerve impulses to those muscles, reducing their movement and allowing your skin to smooth out without expensive surgery, pain, and days or weeks of recovery time.
What Can I Expect?
The procedure is performed in an outpatient capacity. The trained staff at Pure Beauty Medical Spa, under the guidance of board certified physician Dr. Charles J. Sarosy, can provide cooling gel or anesthetic cream to numb the treatment area before the injection process begins, making your experience as comfortable as possible. Improvements can be seen within days, and patients often report positive changes for up to 30 days following the injections.
"I went to this location to get a fixer up of a recent Botox injection I had received elsewhere that had created two small lines at the top of my forehead right before my hairline. I'm only 24 and doing this for preventative care and because I am a model. I don't remember the female's name but she was such a sweet physician. She totally saw the problem and completely fixed it. A few days after and once the botox started to show, I couldn't have been more satisfied. Awesome place."
Monique L.,

Pure Beauty Skin & Medical Spa
How Much Will BOTOX® Cost?
We offer BOTOX® injections to new patients for a special price of $8.50 per unit with a minimum purchase of 50 units. The deeper lines between brows can require between 20 and 35 units, while shallower lines, such as the horizontal forehead wrinkles, may need as few as 6 to 20 units. This means you can potentially treat more than one area with this introductory pricing. Let the staff at Pure Beauty Medical Spa help you say no to the unwanted signs of aging with BOTOX® treatments, so you can resume actively living with confidence in your appearance.
They are amazing and know what are they doing!
Inna Rad,

Pure Beauty Skin & Medical Spa
Take The Next Step
Interested in learning more about Botox Injections? Schedule your consultation with Pure Beauty Skin Care & Medical Spa today calling one of our two practice locations in Rancho Santa Margarita (949) 326-9009, or Newport Beach (949) 236-6001.
*Individual Results May Vary