Sick of shaving and waxing?
We don't blame you. After all, manually removing body hair can eat up a lot of time from your day. Add to the fact that it's expensive and has to be done every couple of days, and it's no wonder more people than ever are considering the benefits of laser hair removal.
But with that consideration comes questions, like: when can I expect laser hair removal results? And how long does laser hair removal last?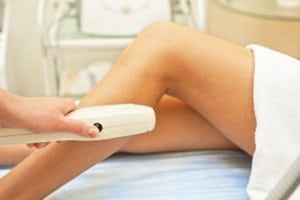 Laser Hair Removal Results: What to Expect
Laser hair removal results take time and several sessions to achieve those silky-smooth results you want. In fact, most patients need anywhere from three to six sessions to get significant results.
Here's why: laser hair removal works to heat and destroys the unwanted hair follicle at the root. This causes the hair follicle to fall out within a few days after the laser hair removal treatment. However, this doesn't yet stop the hair from growing back, so you'll need a follow-up session to target and destroy the follicle again.
As treatments progress, the hair follicle will take longer to grow back, until it reaches the point where months go by before new hair growth starts. This leads us to our next point…
How Long Will My Results Last?
While laser hair removal results aren't permanent, they do last for a lengthy period of time. In fact, some patients report seeing months – even years – go by before they encounter hair regrowth.
When that does happen, all you need to do is schedule a touch-up laser hair removal session to temporarily put a stop to follicular activity.
Laser Hair Removal Consultations Available
Request A Consultation
What Can Laser Hair Removal Treat?
Laser hair removal can target body hair on a number of places, including:
Legs

Arms

Bikini line

Back

Chest

Face

Neck

And more!
Pure Beauty has the best service, so friendly. The nurses do awesome job…I have so much trust in the staff and products…been going for years now….
LS,

Happy Patient
VIEW MORE PATIENT REVIEWS
Take the Next Step
Interested in learning about laser hair removal, including how long your results may last?
Schedule your consultation with Pure Beauty Skin Care & Medical Spa today by calling one of our two locations in Rancho Santa Margarita (949) 326-9009, or Newport Beach (949) 236-6001.