Laser hair removal is a fantastic investment, especially if you've always felt self-conscious about unwanted body hair. With the right number of treatments, laser hair removal can produce silky-smooth skin that doesn't require any waxing, shaving or plucking to maintain.
But there are two keywords in that statement that need unpacking: "right number."
How do you know how many treatments you'll need? And exactly how long does laser hair removal take?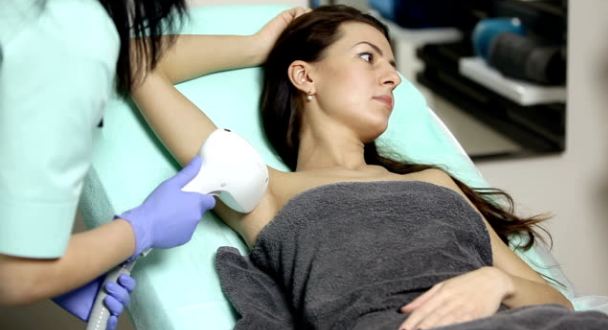 *Individual Results May Vary
How Long Is a Laser Hair Removal Session?
First, let's examine how long an average laser hair removal session takes.
You can plan on spending about an hour in your session, especially if you're planning on treating a larger body area (like your back or legs). During this session, the laser hair removal device will be passed several times over your desired treatment area. You may feel a slight warming sensation during this procedure; if it's too uncomfortable, let your laser hair technician know.
After your session, you'll be able to go back to your normal routine. Be sure to wear plenty of sunscreen if your treated area is exposed to sunlight.
How Long Should I Go Between Sessions?
Your laser hair removal sessions may be scheduled anywhere from four to eight weeks apart, depending on how well your skin tolerates the treatment.
How Many Sessions Will I Need?
The answer depends on the area you'd like treated, as well as how your body responds to the treatments. Most people need anywhere from five to as many as twelve treatments to see their ideal results.
Given that each session should be spaced at least four weeks apart from the next, it means it could take about six months to a year to see final results from your laser hair removal treatments.
But once you do see those results, your hair regrowth should be so slow that you can go years without needing another maintenance treatment!
"I've been to so many medi spas and this is by far my favorite. I found them when I got a great Groupon deal for laser hair removal, and came back again a year later to get a series of IPL facials. I love my skin and have gotten so many compliments. They give great, medically-sound advice and treatments, and they are way more professional, clean, and high-end than any of the many other places I've tried (as the total Groupon junkie that I am I've been all over the OC and LA). Their treatments aren't watered down like a lot of other places I've been. I'm so happy with my skin. I've gotten several friends hooked on this place too." *
Take the Next Step
Interested in learning about laser hair removal, including how long your laser hair removal sessions may take?
Schedule your consultation with Pure Beauty Skin Care & Medical Spa today by calling one of our two locations in Rancho Santa Margarita (949) 326-9009, or Newport Beach (949) 236-6001.