The skin around our eyes can have a profound effect on how kind, intuitive, and well-rested we appear. When crow's feet develop, we seem tired, overwhelmed, or even stern or unhappy. Pure Beauty Medical Spa wants to help you put your best face forward by getting rid of unwanted crow's feet.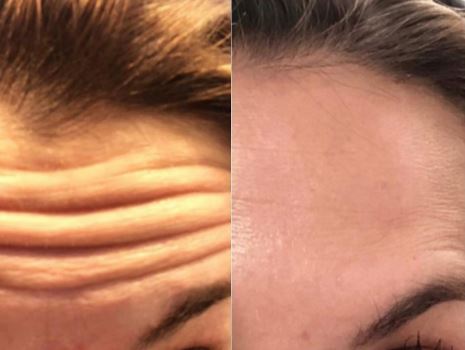 View More Patient Results
*Individual Results May Vary
What Treatments for Crow's Feet are Available?
Botox® is the number one cosmetic treatment in the United States for a reason: it works. FDA-approved in 2002, Botox® is a neurotoxin capable of halting the aging process efficiently and safely. It prohibits neuron signals from reaching the orbicularis oculi muscles when we make common facial expressions responsible for crow's feet, like smiling or frowning. In the well-trained hands of the Pure Beauty Medical Spa team, Botox® naturally stops repetitive expressions responsible for crow's feet without giving our patients a surprised or overdone appearance. As the muscles relax, your skin heals and your crow's feet vanish. You're still you, just with a smoother, fresher appearance.
Laser skin resurfacing is another treatment option for safe, effective diminishing of crow's feet. The Pearl laser offers skin resurfacing even in the delicate region around the eyes. Pearl's laser technology sends pulses of light into the skin to gently remove the damaged top layer and penetrate deeper into the dermis to stimulate the production of collagen fibers, giving the skin firm, smooth support to minimize existing wrinkles and prevent new ones from forming. Crow's feet don't stand a chance with the Pearl laser system.
Am I a Good Candidate?
Millions of patients tolerate Botox® extremely well, so it is a viable treatment for almost anyone, and it is not dependent on skin tone. Pearl laser skin resurfacing is non-invasive and works optimally on light to medium skin tones, and is excellent for treating the delicate tissues around the eyes. Schedule a consultation at Pure Beauty Medical Spa to see which treatment is best for you.
Botox Consultations Available
Request A Consultation
What Are the Treatments Like?
Botox® injections take only minutes, and the only pain you'll feel is the pinch of the injection itself. You're immediately free to resume your normal activities after this perfect "lunchtime procedure."
Following Pearl laser skin resurfacing, your skin will develop a "living bandage" over the treatment area, which encourages healing and protection. You'll need a few days of social downtime—about a week—until this natural dressing flakes and peels, revealing tighter, firmer skin. You may require multiple 45-minute treatments to complete your goals.
When Will I See Results?
Within 5-7 days of receiving Botox® injections, your crow's feet become less noticeable, and improvement should continue for 30 days. The effects last up to 5 months, and the more treatments you have, the more your muscles acclimate to Botox®, resulting in even more time between appointments.
Results with laser skin resurfacing take a little longer, with diminished crow's feet 2-3 weeks after your first treatment. The upside is the results are longer-lasting, possibly only requiring yearly maintenance treatments after your initial plan is completed.
Don't let crow's feet prematurely age you. Let the Pure Beauty experts and Dr. Charles J. Sarosy target your crow's feet and refresh your appearance. Your eyes should only say about you exactly what you want them to say: you're confident and beautiful, and you know it.
"I visited Pure Beauty for the first time recently for a Botox treatment. I had a great experience, staff is very knowledgeable and knows what they are doing, they made me feel very comfortable and explained everything to me. They know exactly how to give clients the look they desire, while keeping them looking natural and years younger! Great results!!!" *
GB,

Happy Patient
VIEW MORE PATIENT REVIEWS
Take the Next Step
Interested in learning about Botox® or laser skin resurfacing? Schedule your consultation with Pure Beauty Skin Care & Medical Spa today by calling one of our two locations in Rancho Santa Margarita (949) 326-9009, or Newport Beach (949) 236-6001.