Our skin is our biggest organ, and as such, it is a remarkable part of our body. But as amazing as it can be, it still shows signs of aging or holds on to the acne-prone ravages of our teenage years. But it doesn't have to. Take care of your skin at Pure Beauty Medical Spa with microneedling treatments designed to give you breathtakingly smooth, glowing skin.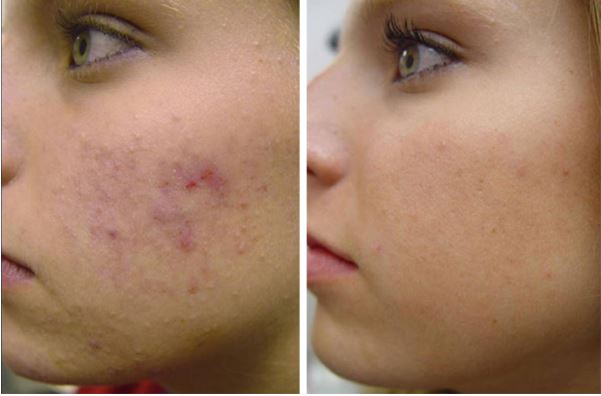 *Individual Results May Vary
What is the Vivace RF Microneedling Difference?
Unlock your skin's greatest potential all at once with the Vivace RF Microneedling. This next-generation device is truly revolutionary, blending microneedling treatments with PRP (platelet rich plasma) and radiofrequency energy to effectively alleviate facial wrinkles, fine lines, acne scars, and more. In addition, it can minimize pores, tighten your skin, and improve the overall tone and texture. The best part is it's virtually pain-free.
So how does Vivace RF Microneedling work? Designed to minimize patient discomfort with its 36 insulated gold-tipped needles, the Vivace RF device creates microchannels within the dermis to boost the natural production of collagen and signal the body's wound healing process to increase cellular turnover. These channels remain open and clear for 4-6 hours for the maximum PRP benefit in the most ideal conditions. At the same time, radiofrequency heat is delivered into the deepest dermal layer to tighten skin, leaving behind an astonishingly smooth, even complexion. Because the needles are insulated, patients experience greater comfort, minimizing the burning or random heat sensations that must be endured with other procedures. One treatment, fantastic results, and no pain.
Am I a Good Candidate?
If you're looking for a bright, fresh, smooth complexion, wish to alleviate fine lines or wrinkles, or desire to reduce the appearance of acne scars, large pores, or even out your skin tone, then you'll make an ideal candidate for Vivace RF microneedling.
Vivace RF Microneedling Consultations Available
Request A Consultation
Results, Side Effects, and Recovery
While some of the results can be seen immediately, patients report continuing improvement for 2-3 weeks after treatment, waking up each day to brighter, fresher, clearer skin. After a month, the results are set. If, at that time, you decide you'd benefit from more than one Vivace RF microneedling procedure, Pure Beauty Medical Spa staff are happy to schedule you for a follow-up treatment.
Side effects are mild, with a little swelling and redness, which will clear up after around 72 hours. Some sensitivity is possible, and we recommend sunscreen after your treatment because your skin will be more susceptible to the sun's harmful UV rays. There is absolutely no downtime, and patients are free to resume their daily activities immediately following treatment.
There is no one more experienced in the Rancho Santa Margarita or Newport Beach area than board certified cosmetic surgeon Dr. Charles J. Sarosy, who has more than 6,000 cosmetic enhancement procedures to his resume. The Pure Beauty Medical Spa staff is unparalleled in both knowledge and compassionate patient care. We treat the patient, not just the body part. By staying abreast of the latest technologies and techniques in the cosmetic enhancement industry, we can proudly say we offer the best in facial rejuvenation and cosmetic enhancement services. Vivace RF microneedling is just one of the many services we offer to help you achieve your best self and be proud of how you look.
Pure Beauty has the best service, so friendly. The nurses do awesome job...I have so much trust in the staff and products...been going for years now....
LS,

Happy Patient
VIEW MORE PATIENT REVIEWS
Take The Next Step
Interested in learning about Vivace RF Microneedling? Schedule your consultation with Pure Beauty Skin Care & Medical Spa today by calling one of our two locations in Rancho Santa Margarita (949) 326-9009, or Newport Beach (949) 236-6001.