Do you have a little extra chin fat, despite eating well and getting plenty of exercises?
Don't resort to surgery to get rid of that fat once and for all. In fact, there's a new way to reduce a double chin without surgery…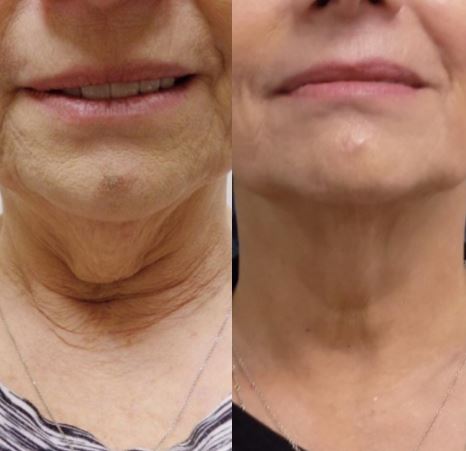 View More Patient Results
*Individual Results May Vary
Kybella: Double Chin Reduction Without Surgery
Kybella is an FDA-approved injection that focuses on one thing, and one thing only – to get rid of stubborn fat underneath your chin and around your jawline.
Kybella achieves this goal thanks to its main ingredient, deoxycholic acid. This natural compound works to dissolve its way through submental fat cells, while leaving healthy cells untouched. The damaged fat cells not only shrink in size, but they're eventually removed by the body's metabolic processes, thus helping to further reduce your double chin.
The end result? A more contoured and aesthetically pleasing jawline!
Kybella has only been on the market for a few years, but it's already proving to be an incredibly popular option for patients who want to get a slimmer, more contoured facial profile.
Are Kybella Results Permanent?
Kybella results are permanent in that once the treated fat cells are destroyed, they don't come back.
However, Kybella cannot prevent the formation of new fat cells. That's why we encourage people interested in Kybella to make sure they're fully committed to a healthy lifestyle, which includes a lean diet, plenty of exercises, and rest.
Kybella Consultations Available
Request A Consultation
Am I a Good Candidate for Kybella Treatments?
You're a good candidate for Kybella treatments if you have excess fat under your chin or around your jawline. You should also be willing to keep up your healthy habits, for reasons stated in the section above.
Finally, the best Kybella candidates have good skin laxity. This is because patients with poor skin laxity may encounter sagging skin after a Kybella treatment, as the skin doesn't keep up with the fat reduction. If this happens to you, we can offer skin-tightening treatments to make sure you can show off your new results.
Pure Beauty has the best service, so friendly. The nurses do awesome job…I have so much trust in the staff and products…been going for years now….
LS,

Happy Patient
VIEW MORE PATIENT REVIEWS
Take the Next Step
Interested in learning about reducing a double chin with Kybella injections?
Schedule your consultation with Pure Beauty Skin Care & Medical Spa today by calling one of our two locations in Rancho Santa Margarita (949) 326-9009, or Newport Beach (949) 236-6001.