We've all heard about Botox® treatments for forehead wrinkles and crow's feet, but did you know it can be used to enhance your lips? Whether you're not happy with your smile, or are looking for plump lips, Botox® may be a surprising solution in your quest for a perfect pout. Pure Beauty Skin Care & Medical Spa is happy to answer any questions you may have.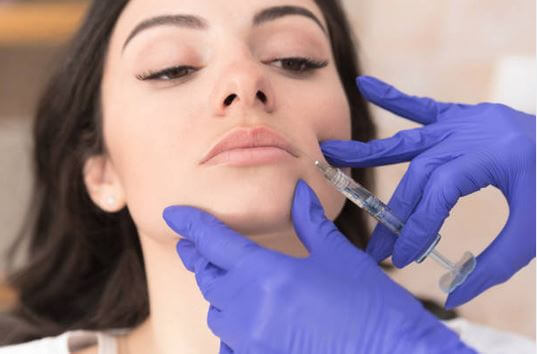 How Botox® Works for the Lips and Mouth
While Botox®'s more common usage is to relieve wrinkles in the forehead area and the corners of the eye, it has definite benefits for the lower part of your face, too. It works by blocking nerve impulses to the muscles in which it's injected, making the muscles relax so existing wrinkles smooth out, and new wrinkles don't form. These include the muscles we use to smile, which create deep creases called nasolabial folds, or "parentheses" from the nose to the corners of the mouth. Botox® can also correct "marionette lines," from the corners of the mouth down the chin. Fine lines around your mouth and lips, sometimes called "smoker's lines," causing you trouble? Botox® can help.
But Botox® does not affect only wrinkles. It can enhance your mouth by elevating the corners of your lips, and correct what's known as a "gummy" smile where too much of your gums show when you smile. Applying Botox® to your cupid's bow will relax the muscles responsible for lip lift when you smile, keeping your top lip from rising and showing too much of your gums. Upper lip enhancement is called a Botox® Lip Flip. By injecting Botox® into the upper middle of your upper lip, we can relax those muscles, which will cause your lip to curl upward, giving it more length and a larger appearance. For a more dramatic effect, dermal fillers may be added for even plumper lips.
When Can I See Results From Botox® Treatments?
It may take between 5-7 days for the full effects of your Botox® injections to set in. The length of time Botox® lasts depends on what part of your mouth you've enhanced. For the Botox® Lip Flip, results can last 2-3 weeks, making it an attractive procedure for short-term improvements for social occasions such as weddings. For treatment of nasolabial folds or marionette lines, the treatment lasts longer, up to 3-5 months.
Botox Consultations Available
Request A Consultation
What Can I Expect From Botox® Treatments?
There may be some side effects associated with Botox® treatments in the perioral area, such as inhibiting your ability to drink through a straw, pucker up for a kiss, or whistle. Patients also report short-term swelling, tenderness, bruising of the injection site, and numbness. These resolve with a day or two. The benefits of Botox® treatments around your mouth outweigh the risks, bringing your confident smile back and relieving the worry that each laugh or smile is deepening the wrinkles and folds around your mouth.
There is an artistry required with Botox® injections, whether they're applied to the forehead or around the mouth. The Pure Beauty Medical Spa team has the necessary experience and critical aesthetic eye to properly administer Botox® injections, so they're safe, effective, and enhance your natural beauty without resulting in a surprised or droopy look. Bring back your widest, most joyful smile with Botox® treatments today.
I went to this location to get a fixer up of a recent botox injection I had received elsewhere that had created two small lines at the top of my forehead right before my hairline. I'm only 24 and doing this for preventative care and because I am a model. I don't remember the female's name but she was such a sweet physician. She totally saw the problem and completely fixed it. A few days after and once the botox started to show, I couldn't have been more satisfied. Awesome place.
ML,

Happy Patient
VIEW MORE PATIENT REVIEWS
Take the Next Step
Interested in learning about Botox® treatments for lip enhancement? Schedule your consultation with Pure Beauty Skin Care & Medical Spa today by calling one of our two locations in Rancho Santa Margarita (949) 326-9009, or Newport Beach (949) 236-6001.