What do you do when eating right, exercise, and targeted toning do nothing to get rid of stubborn fat that won't melt away? We all have those little pockets of resistant fat standing in the way of our desired body shape. But you don't have to live with an undesirable silhouette anymore. Pure Beauty Medical Spa has a nonsurgical, noninvasive option for body contouring that will have you happy with your curves. All of them.
What is truSculpt?
The truSculpt body sculpting device works by using radiofrequency to heat adipose tissue. Fat cells die off at a different temperature than surrounding tissues, so as they absorb heat from the truSculpt device, they die off while surrounding tissues are left unharmed. Radiofrequency waves are directed at the entire layer of fat between skin and muscle, ¼ to ½ an inch below the skin. As the fat cells die, they are slowly metabolized by the body's natural cell removal process. Each pulse of radiofrequency waves lasts approximately four minutes. This nonsurgical procedure is painless, and the warmth from the device adjusts for optimal comfort and safety.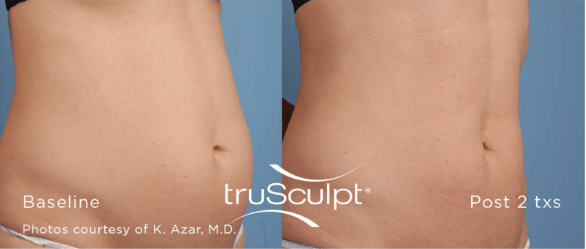 *Individual Results May Vary
What Results Can I Expect?
With truSculpt, the therapeutic temperatures to the subcutaneous tissue can result in a 25% fat reduction*. The size of your treatment area, amount of fat cells targeted, and location of the area all determine the length and frequency of the treatments. Some patients see results as early as 4 weeks, with the best results visible by 12 weeks. Treatment sessions with truSculpt are an hour or less in duration, and most patients need only 2-4 treatments, scheduled 4-6 weeks apart.
There's no downtime. Many patients return to work or regular daily activities immediately after their procedure. Side effects, which typically disappear within hours, can include swelling, tenderness, and reddened skin of the treatment area. So get the curves you deserve. The staff at Pure Beauty Medical Spa, under the guidance of board certified physician, Dr. Charles J. Sarosy, are ready for you.
Awesome experience, I saw the advertising on Instagram I booked an appointment and I was very please with the service I'm planning on coming back and doing other services very well satisfied !!!
Nina Nina,

Pure Beauty Skin Care & Medical Spa
Take The Next Step
Interested in learning more about truSculpt Body Contouring? Schedule your consultation with Pure Beauty Skin Care & Medical Spa today calling one of our two practice locations in Rancho Santa Margarita (949) 326-9009, or Newport Beach (949) 236-6001.
*Individual Results May Vary