Butt augmentation has risen in popularity in recent years, particularly as appreciation for a curvy, voluptuous backside has become a more standard societal definition of beauty. Those without naturally plump derrieres have turned to exercises to maximize gluteus muscles. But people destined for smaller, flatter butts now have a non-surgical option with very little downtime. Pure Beauty Skin Care & Medical Spa can enhance your backside with Sculptra.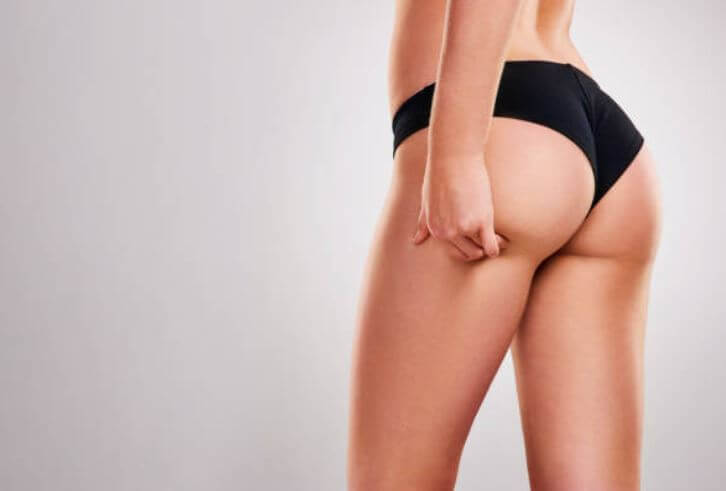 How Sculptra Works
Everyone has lactic acid naturally in the body, which is what makes Sculptra so well tolerated among patients. Sculptra is an injectable filler containing poly-L-lactic acid that stimulates the natural production of collagen to add volume to the buttocks. Creases and sagging formed over time are eliminated without the use of gel fillers that break down or require future maintenance treatments. The poly-L-lactic acid ramps up your body's inflammatory response, rushing collagen to the area to produce scar tissue at the injection site. Practitioners carefully stimulate this inflammatory scarring response in areas of your posterior with a practiced and artistic eye. The result is a shapely, plumped behind that lasts much longer than traditional fillers.
The injections are perfectly safe, approved by the FDA in the 70s for volume loss in other areas. Without Sculptra, enhancing backside shape and size is only achievable through surgeries such as fat transfer or implants. Fat transfers depend on the patient having enough fat in other areas of the body and require liposuction to harvest the material, and implants have risks of their own. Sculptra requires no surgery for a better silhouette, and its downtime is minimal in comparison to surgery.
Am I a Good Candidate for Sculptra Butt Augmentation?
Anyone in good general health with a desire for a more curvaceous butt may be a good candidate for this procedure. There are, however, expectations to manage with regard to Sculptra treatments. For a large change in size, the other surgical options might be more in line with your goals. For those wishing for an enhanced shape, a little more volume, and a decrease in sagging brought on by age, Sculptra may be the perfect solution for you.
Butt Augmentation Consultations Available
Request A Consultation
What Can I Expect From Sculptra Treatments?
Sculptra procedures last on average 45 minutes, and while the downtime is much less than with surgery, patients may still require a couple days of recuperation. While some bruising and swelling is common, the main concern is to avoid putting prolonged pressure on the treatment area that may cause Sculptra fillers to spread in a way your doctor does not intend. For 24-48 hours post-treatment, it is recommended you avoid sitting or lying on your back. Results can be expected to begin at the 2-3 month mark, with collagen growth continuing for up to 12 months. Once you have achieved your desired results, we recommend touch up treatments every 2-3 years with 1-3 vials.
Board-certified cosmetic surgeon Dr. Charles J. Sarosy has performed more than 6,000 cosmetic enhancement procedures, making him one of the most experienced cosmetic surgeons in the Rancho Santa Margarita and Newport Beach areas. By staying in touch with the latest technology, Pure Beauty's highly qualified and expertly trained team brings the best the cosmetic enhancement industry has to offer to our patients. Isn't it time to love your new shape?
Excellent experience. Their knowledgeable staff are kind and compassionate and went above and beyond to explain options and procedures. Very recommended.
JR,

Happy Patient
VIEW MORE PATIENT REVIEWS
Take the Next Step
Interested in learning about Butt Augmentation? Schedule your consultation with Pure Beauty Skin Care & Medical Spa today by calling one of our two locations in Rancho Santa Margarita (949) 326-9009, or Newport Beach (949) 236-6001.